HOW TO SPEND TIME AT
YUKEMURI-NO-SHO
Check-In at The Reception
Total cost you spend is paid when you check-out. Please put your shoes into a shoes locker at the entrance and come to the reception.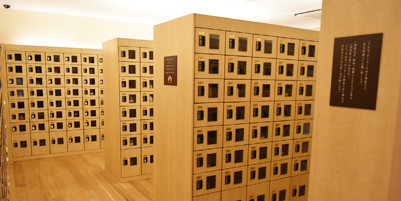 Receive Lounge Wear and Wristband-Key
We provide lounge wear and wristband-key while checking-in at the reception. Please use the wristband-key for all payments in YUKEMURI-NO-SHO facilities.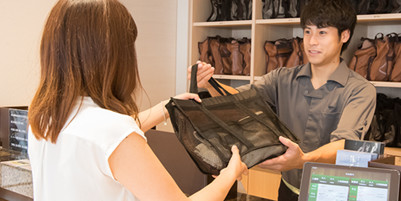 Enjoy Our Natural Hot Spring and Bedrock Bath etc.
There are a lot of facilities at YUKEMURI-NO-SHO such as natural hot spring, bedrock bath, relaxation, restaurant, fitness club, and so on. Please enjoy and relax with them.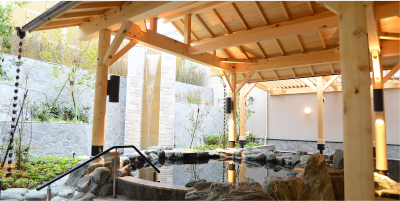 Return The Wristband-Key and Make A Payment
When You Leave
After enjoying and relaxing our facilities, please return the wristband-key and make a payment at the reception when you leave. You can also add up payments of your family or friends to pay all at once.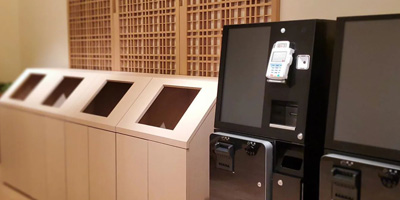 PRECAUTION
In case you correspond any of the followings,
you cannot check-in at YUKEMURI-NO-SHO.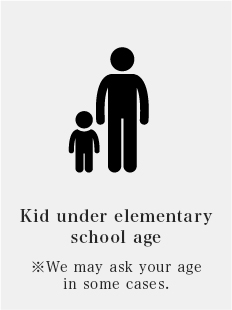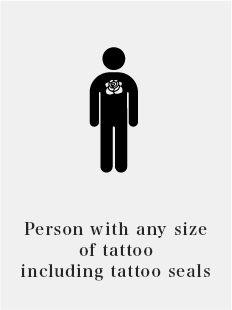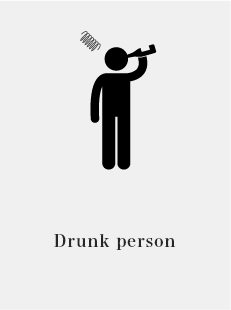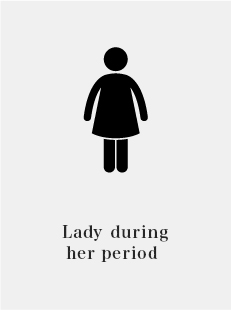 In case these people are checked-in mistakenly,
we ask them to make a payment and leave YUKEMURI-NO-SHO once we notice.
OUR POLICY
You cannot bring any foods or drinks into YUKEMURI-NO-SHO.
Once you checked-in, you cannot get out from YUKEMURI-NO-SHO until making a payment.
We politely refuse to provide alcohol for drivers.
You cannot use your electronics including smart phone, camera, and cell phone in the dressing room.
If you have a parking ticket, please show it while checking-in and checking-out.
In case you lose any of the keys (shoes locker, wristband-key, and dressing locker and so on), we ask you to deposit 3,000 yen.※Once you find the lost key within 1 week, we refund the deposit.
For sanitary reason, we politely refuse to check-in for customers using diaper or training pants.
We ask to leave YUKEMURI-NO-SHO to customers committed nuisance or dangerous action as well as regarded as unsuitable for YUKEMURI-NO-SHO.
In case you don't follow our policy,
we may ask you to leave YUKEMURI-NO-SHO.
INFORMATION / ACCESS
INFORMATION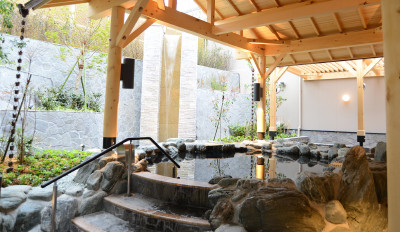 Natural Hot Spring
Opening Hours
Price
Weekday
10:00~24:00
Adults
1,200 yen w/o tax

Children
900 yen w/o tax
Weekend
Public Holiday
Adults
1,400 yen w/o tax

Children
1,100 yen w/o tax

*Check-in can be allowed for over elementary school age.
*Rental face/bath towels and lounge wear are provided.
*You can use your credit card for the payment such as VISA, Master and so on.

Special Price After 21:30 on Weekday

Adults 980 yen


*rental face and bath towels are included.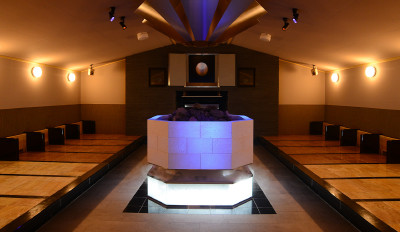 Bedrock Baths
Opening Hours
Price
Weekday
10:00~23:30
Adults
800 yen w/o tax
Weekend &
Public Holiday
Adults
900 yen w/o tax

*Bedrock Bath's Wear and Mat are provided.
*Check-in can be allowed for use of Bedrock Bath only.
(You have to pay entrance fee.)
ACCESS
Address

3-7-61 Tarumachi, Kouhoku-Ku,
Yokohama City, Kanagawa Pref.
045-545-4126
FACILITIES
Natural Hot Springs

12 Types of Natural Hot Springs

Natural Hot Springs have been welled up in Tsunashima, formerly called an annex of Tokyo. Please enjoy and relax a variety of hot springs.
Bedrock Baths

6 Types of Bedrock Baths

Best healing space for beauty and health is presented. Please relax yourself with a variety of ores which have healing effects.
Relaxation

Heal Up Weary Body with Excellent Relaxation

Roomy space, which lets you forget about daily life, is prepared. Please be satisfied by our luxury relaxations which heal up a whole tiredness of your body.
Restaurant

Luxury After Enjoying Natural Hot Springs

[KOKONE] is famous for its special handmade TOFU dishes which are totally tasty. Please enjoy our food with your family or friends in a private room. (L.O. 22:30)
PRiME -fitness & spa-

Fitness Club

After sweating by comfy exercise at the fitness club, please take natural hot spring and release your tiredness. It would make you feel relaxed and satisfied.